Gwyddelfynydd Evening Song
21.04.2020 20:42:05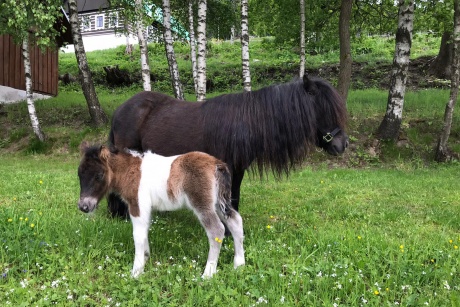 I bought Song from Frans Geven in August 2018. Frans got her in the UK and imported her to Holland. She gave birth to a filly there.
Song is the sweetest and the most docile of my girls. She was born in a small stud in Wales. Mrs. Frances Morkill focuses mainly on Marshwood and Knock bloodlines. Song is gentle and sweet, pleasant to people. She waits quietly for her turn to receive cuddles or a treat. She never challenges more dominant mares.
Song is simply my "quiet love".
Foals:
2020 - Plamp Fortune Skywalker (Knock Fortune Maker)
2021 - Plamp Japetus (Knock Jack Spratt)
2022 - Plamp Love Song (Knock Fortune Maker)
2023 - Plamp Midnight Song (Knock Fortune Maker)


Member
of The Shetland Pony
Stud-Book Society
Gwyddelfynydd Evening Song
UELN: AS1711
Born: 16 May 2006
Height: 38,5 inches
Breeder: Mrs Frances Morkill
Gwyddelfynydd stud
75% Marshwood bloodline